EFC is a holistic off-season development opportunity for skill position players. Athletes will participate in bi-monthly position skill training and 7v7 competition.
1) 2x/mo Football Development Training (JAN - MAY)
- 2 hour 7v7 practice with travel teams
2) 1x/mo Small Group Position Training (JAN – MAY)
- 1 hour individual position development
3) Participate in EForce Memorial Day 7v7 tournament
- Opportunity to earn a spot on travel teams
Once again, thank you for you participation. Please let us know if you have any questions regarding EFC or any of our other programs.
KEY DATES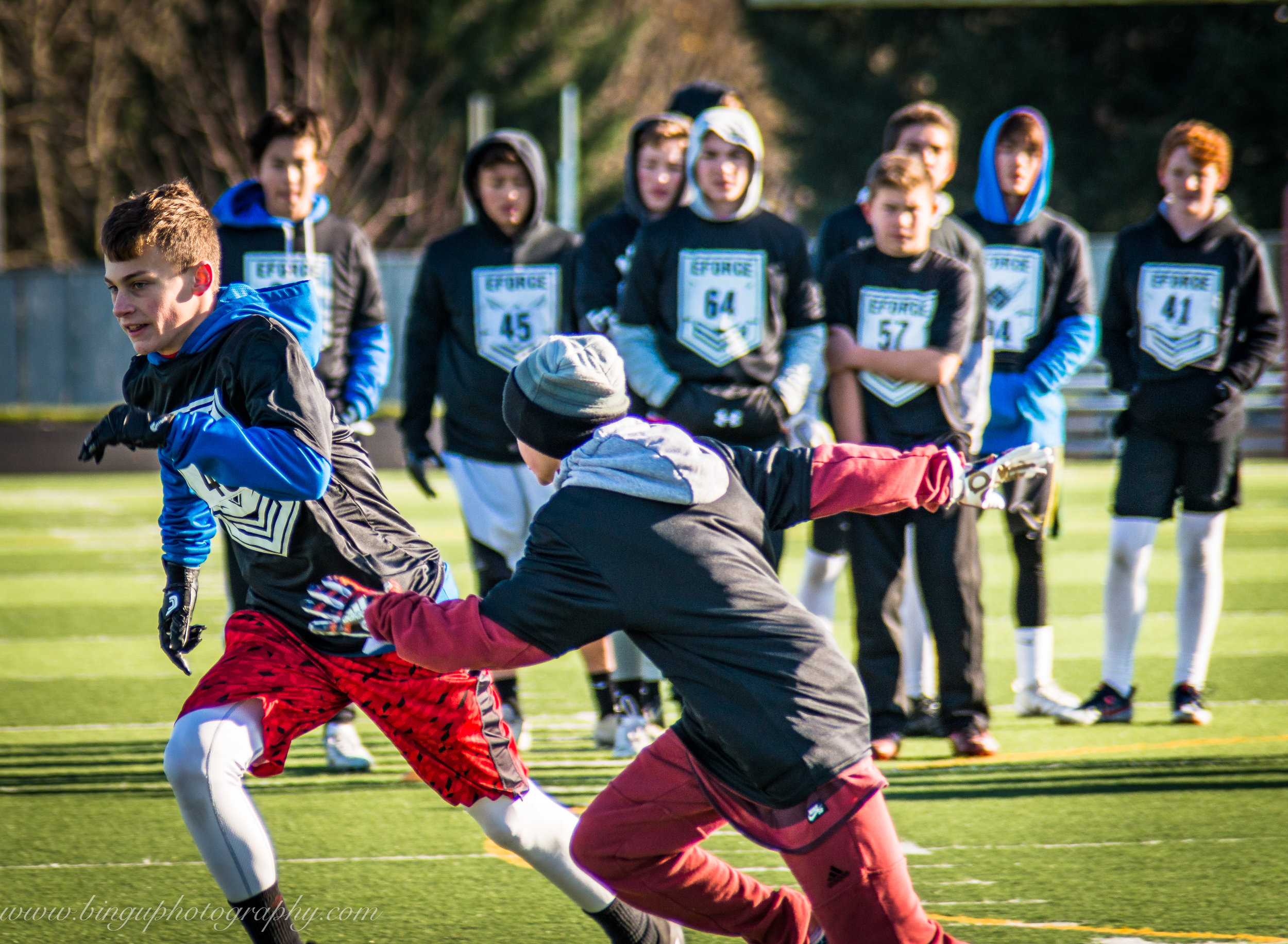 JANUARY 2018
TRAINING SESSIONS/PRACTICES: @ Lakeridge HS

SATURDAYS 10am - 12pm: Jan 13th, 27th

SMALL GROUP: @ EForce Eastside Facility

SUNDAY Jan 21st 10am - 12pm
More pictures from 7v7 tryouts please visit our Facebook page:
FEBRUARY 2018
TRAINING SESSIONS/PRACTICES: @ Lakeridge HS

SATURDAYS 10am - 12pm: Feb 10th, 24th

SMALL GROUP: @EForce Eastside Facility

SUNDAY Feb 18th 10am - 12pm
MARCH 2018
TRAINING SESSIONS/PRACTICES: @ Lakeridge HS

SATURDAYS 10am - 12pm: TBA

SMALL GROUP: @EForce Eastside Facility
APRIL 2018
TRAINING SESSIONS/PRACTICES: @ Lakeridge HS

SATURDAYS 10am - 12pm: TBA

SMALL GROUP: @EForce Eastside Facility
MAY 2018
TRAINING SESSIONS/PRACTICES: @ Lakeridge HS

SATURDAYS 10am - 12pm: TBA

SMALL GROUP: @EForce Eastside Facility
May 26th - EForce (Portland) Tournament - Middle School
May 27th - EForce (Portland) Tournament - High School
Registration
*First payment due January 1st, 2018 or begin immediately*
*To pay by cash or check please contact kieran@eforcefootball.com